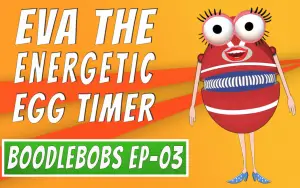 Lots of fun and alliteration for young children in this the third episode of Boodlebods. Eva the Energetic Egg Timer finds a calling as she visits the hen house.
This is part of a series focusing on alliteration perfect for young children and kindergarten age, all the series has an animated youtube video to go along with the books.
Read along with the book by viewing the video below you can open it in a separate window, or use the subtitle feature.
If you click the red subscribe button and then the little bell icon you will be automatically notified of new uploads if you have a google / gmail account.
Channel Subscribe text link:
Other books by Jo Kemp on FKB:
Sample Text from Eva the Energetic Egg Timer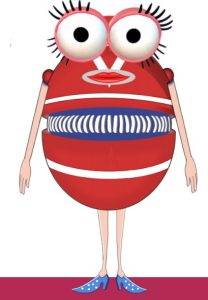 EVA THE ENERGETIC EGG TIMER
Boodlebobs [EP-03] – www.boodlebobs.com/eva By Jo Kemp
This is a story all about Eva and yes, she's an egg timer.
Because timing eggs only takes minutes, Eva had a lot of time on her hands. It gave her time to think so she thought a lot about chocolate.
Bars of chocolate, boxes of chocolates, chocolate biscuits, chocolate cake – anything so long as it was chocolate.
But there had to be more to life than chocolate?
Just then, Freddie scratched his nose and this gave Eva an idea. "I wonder how many times he does that in a minute?"


"In fact, I wonder who does what, how often and when…?"
So she started timing everyone and everyone got very fed up.
"STOP!!!" said Ivy putting her hands over her ears. "Everyone is tired of being timed and told about it…"
"PLEASE go back to timing eggs!"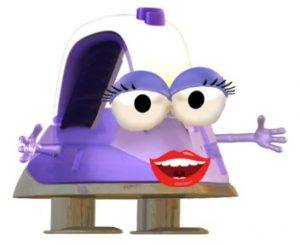 "In fact, why don't you go and nd out how long it takes to LAY an egg?"
Eva thought this was a BRILLIANT idea.
In no time at all, she arrived at the henhouse where two lovely soft hens were chattering about what hens always chatter about… …eggs.
They laughed when they saw Eva. "Oh my word and glory be! Now's there's a funny thing to see in a henhouse!"
"Can I time how long it takes you to lay an egg?" asked Eva.
"Yes, but we can't be hurried," they clucked. "You can't hurry an egg, Oh dearie me no!"
<End of Sample>
Read the full book on the links below, or listen to the video above.
ABOUT THE AUTHOR
Jo Kemp is a British author who primarily writes children's fiction. She became known for writing the original series of 'Chorlton and the Wheelies' and 'Jamie and the Magic Torch' for Cosgrove Hall Films.
She went on to write 'Boodle Books' published by Thurman of Mr. Men fame before setting up her own production company which produced the popular children's TV series 'The Raggy Dolls' as well as countless TV commercials and brand films over 25 years.
Jo is a fully edged member of the Writers' Guild and will complete the first in a fantasy trilogy for publication in 2019.
See our most recent books below
See our most popular book this month
---
Sponsored Links:
Note – if you sign up through these links, it doesn't cost you any extra, but FKB receives a small donation, which helps us move towards our aim of
FREE Hardcopies!  
All our posts are checked by Grammarly, the FREE online grammar checker (We still receive a donation even if you only sign up for the free account :-):


This site is hosted by Bluehost:

Leave a comment (it won't be public) if you want help getting your own website cost-effectively.