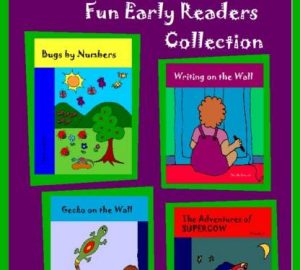 This book contains four of our early reader books in one easy to download file. The book contains Supercow, Gecko on the Wall, Bugs by Numbers, and Writing on the Wall. These books are aimed at kindergarten and nursery age children, but also great for early grades learning to read and for ESL.
Author: Danielle Bruckert
Excerpt:
Book 1 Gecko On The Wall: There's a gecko on my wall. I don't mind him there at all. Lying quietly watching me. He is quite good company. <End of page 1>
Book 2 Bugs By Numbers: Down in the garden under the tree, there's a whole lot of creatures living with me. <End of page 1>
Book 3 Writing on Walls: I wanted to write as much as I could, I wanted to write for all I was able, I wanted to write whether or not I should, I wanted to write on the chairs and the table; But Mum said "Only on the paper!" <End of page 1>
Book 4 Supercow : This is Cow. Cow is Cool! <End of page 1>
Author Biography: Danielle loves writing children's books as a fun release from her highly technical 'day job' as a pilot. This is four of her early readers, aimed at pre school years, written when her daughter was two years old. The hobby and desire to get the books out there to readers, led to the creation of Free Kids Books website, which she manages and provides access to many free books to others.