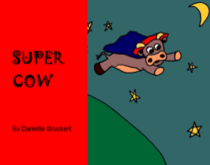 A short story about a fictitious hero, Super Cow, combining imagination, the wonder of the original superhero themes, and children's love of cuddly soft toys. Suitable for children 2-5 years, but children of all ages will love the colourful cute pictures and story.
Author: Danielle Bruckert
The story is handwritten in a childlike style.
Sample Text From The Adventures of Super Cow: This is Cow. Cow is Cool! <End of page 1>
About the Author: Danielle wrote this book for her daughter about her favourite toy's secret life. Danielle is a pilot who writes children's books, and runs this website as a very cool hobby. You can see more of her books here:  http://www.freekidsbooks/danielle
Read along with Supercow here: