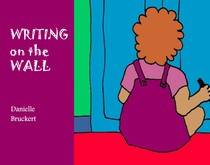 Writing on the Wall is a short story written in rhyme, portraying one of the common issues during a toddlers struggle for independence while learning the need to sometimes conform to the rules. Suitable for children 2-5 years, but children of all ages will love the colourful pictures and cute rhymes.
Author: Danielle Bruckert
Sample Text From Writing on the Wall:
I wanted to write as much as I could, I wanted to write for all I was able, I wanted to write whether or not I should, I wanted to write on the chairs and the table; But Mum said "Only on the paper!"
<End of Page 2>
About the Author: Danielle wrote this book when her daughter was struggling with 'not' drawing on walls. It seemed every second word they said was "Only on the paper!" To make matters worse it was a rental property as they had just shifted towns. Many readers, authors, parents, have written to her to say how universal this problem is, but many solve it more productively by assigning a 'writing wall', which is a really great idea which she tried in the next house. This time does not last long, and creativity should never be stifled! However like the little girl in the story – they do learn boundaries, and grow up.
Read Along With for Writing On the Wall
If you liked this children's story you may also like these books:
Save