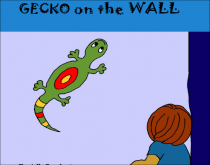 Gecko on the Wall is a short book about geckos around the house using rhyme and imagination. Suitable for reading to pre-school children, or reading by children learning to read.
This extended version includes a non-fiction section at the end. The fun gecko facts and activities for children provides for an additional learning experience and perfect for classroom or homeschool projects.
Sample Text from the Book
There's a gecko on my wall, I don't mind him there at all; Lying quietly watching me, He is quite good company.
<End of Page 1>
Read Along With The Book on YouTube: 
See more Books from the Author below