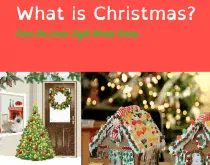 What is Christmas all about? Is it the presents, and the candy, and the snow – do you even have snow? Or is it about sharing, giving, loving, and growth? Is it about toys or is it about family and fun? This short photo book is designed for very young children and children learning to read, with around 20 words total, and using a large dyslexic font. The book also includes craft ideas and a cookie recipe. Another great creative commons book, brought to you directly from Free Kids Books. Share the spirit of Christmas and share the book with family and friends!
EXCERPT: What is Christmas all about? Is Christmas all about presents? Or is Christmas all about giving?
About the Author: Danielle Bruckert is the creator of Free Kids Books. She writes mainly for young children, and pilots.