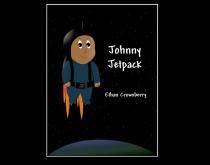 Johnny Jetpack – Johnny Johnson always dreamed of one day flying through space. When his inventive grandfather builds him a Jetpack for his birthday, he grows as close to obtaining that dream as any small boy can ever hope. But it's not long before he is faced with the responsibilities that accompany such a magnificent gift. He quickly finds himself torn between fulfilling his heart's desire and helping people in need.
Author: Ethan Crownberry
Text and Images from Johnny Jetpack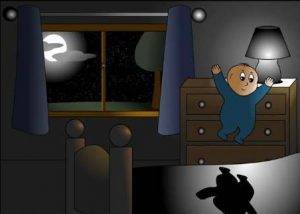 Johnny Johnson knew that one day he would fly among the stars—
he dreamed of someday flying out past Jupiter and Mars.
"But how am I to do this?" Johnny said, then scratched his head,
then he leapt down from his dresser and bounced high up off his bed.
And for nearly two whole seconds, Johnny felt like he could fly,
'til he flopped down on his backside without really knowing why.
"I will fly someday—I swear it! I'll be up there someday soon,"
Johnny muttered as he stared out through his window at the moon.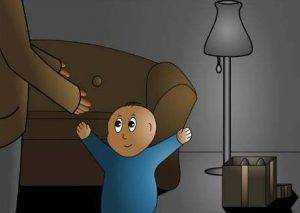 Then soon came Johnny's birthday; it was finally here at last.
He was older now, and wiser. He was growing up quite fast.
And later on that night, his grandpa came by for a spell,
and he brought with him a present he had wrapped up very well.
And as Johnny opened up the box, he found a great surprise;
it was something so fantastic, he could not believe his eyes.
"OH, THANK YOU!" shouted Johnny, then he hugged his grandpa tight, then he grabbed the box, ran up the stairs, and disappeared from sight.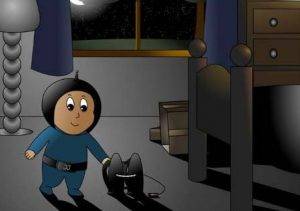 Then down the hall he ran, into his room, and closed the door, then quite quickly dumped the contents of the box out on the floor. And there it was—the thing he needed most to help him fly; it was a jetpack with two jets to help him soar up through the sky. And with it came a helmet, and a black utility belt, which he quickly wrapped around his waist to see how snug it felt.
Then he put the helmet on his head, and next, picked up the pack, and with a shoulder through each harness, strapped it tightly to his back. Then behind him, rather suddenly, his door swung open wide, and his grandpa, who had come to talk, took three short steps inside. Then ol' Grandpa slowly knelt, and asked for Johnny's full attention; for it seemed he had some things he thought were quite well worth a mention.
<end of sample>
See more Children books below
See more books by Ethan Crownberry below
---
Sponsored Links:
Note – if you sign up through these links, it doesn't cost you any extra, but FKB receives a small donation, which helps us with our project to buy more FREE Hardcopies   for kids who need them

All our posts are checked by Grammarly, the FREE online grammar checker (We still receive a donation even if you only sign up for the free account :-):