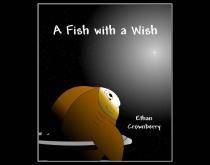 A Fish with a Wish – If you only had one wish to make, would you change your life, or would you change someone else's? Can a Goldfish find happiness in his dreary surroundings? Trapped in a tiny glass tank, a miserable goldfish makes it perfectly clear how disappointed he is with life. A series of wishes granted by a magic star reveal that the grass is not always greener on the other side. Will the fish ever find true happiness? Join him on his quest for a better life and his journey into selflessness in this heart warming tale with a bitter-sweet ending to make you cry. Written in rhyme.
Author: Ethan Crownberry
Text and Image from A Fish with a Wish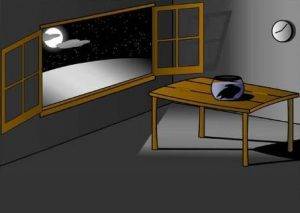 Some time ago, in an awfully gray room,
in a corner so dark and so filled up with gloom,
on a table just barely four legs and a plank,
sat one gallon of water in a tiny glass tank.
And inside that water a goldfish was swimming,
pondering glumly the life he was living.
And in that glass tank on that old wobbly table
is where we begin this odd fish-wishy fable.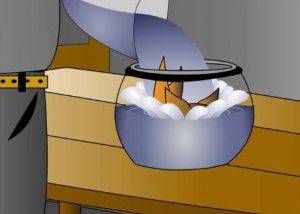 For the fish had been brought home from the pet store that day,
and was dropped in his tank in a most unpleasant way.
He'd been bought by a man as a gift for his daughter—
bought with no more than one thin, shiny quarter,
then carried home quickly in a small bag of water.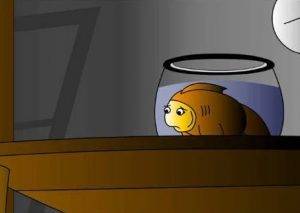 And now the fish was unhappy. He was far, far from glad.
He was quite disappointed, and growing quite mad.
For the water all around him was cloudy and cold,
and the table beneath him was eighty years old.
"How mean to have put me in such a tight place,"
said the fish with an awful fish frown on his face.
"Thank goodness I'm small and not big like a trout,"
he huffed one more time as he pouted about.
<end of sample>
You can also read along with the video below
See more books about Values below
See more books by Ethan Crownberry below
---
Sponsored Links:
Note – if you sign up through these links, it doesn't cost you any extra, but FKB receives a small donation, which helps us with our project to buy more FREE Hardcopies   for kids who need them

All our posts are checked by Grammarly, the FREE online grammar checker (We still receive a donation even if you only sign up for the free account :-):