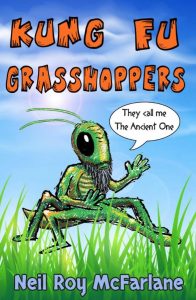 In The Kung-Fu Grasshoppers, the grasshopper's children are taken prisoner by a hungry monster. Two strangers arrive in the grasshopper village, an old man and his granddaughter. Who are they, and can they help to save the grasshopper children from the evil monster who holds them prisoner in the nearby woods?
This suspense-filled tale of a village terrorized by a hungry monster the size of a bunny rabbit – but pretty darn big for grasshopper standards – and it's moral, learn not to judge by appearance, is bound to amuse.
Excerpt from Kung-fu Grasshoppers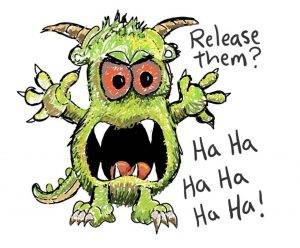 A long time ago in ancient China, there was a Village of grasshoppers who lived peacefully and happily in a lovely valley. There, they spent their days playing and singing and sunbathing……
One day, three grasshopper children went to play in the nearby woods. They had often gone there before and everyone in the village believed that the woods were a sunny and safe place for grasshopper children to play.
But they were wrong because what nobody knew was that a monster had recently come to live in the woods, and that monster caught those grasshopper children…
About the Author: Neil Roy Mcfarlane
Neil Roy McFarlane is from the UK. He lived in Asia for over ten years and speaks passable Chinese. He writes in his spare time. He realized he wanted to be a writer when he was 8 years old, he fell in love with reading and thereby living in other worlds. He believes that a writer is a great puppeteer who can create worlds.
He would wake up at five in the morning and usually write for a couple of hours during weekdays before he goes to work. Then he would write some more when he is on the train to and from work using scraps of paper. He even uses train tickets and till receipts when he runs out of paper.
More books about monster's from FreeKidsBooks
By: Giovani Valencia
Rumours are not always what they seem, and monsters may not always be monsters, find out more about the monster who lives on the mountain in this picture book.
Written by: Marie-Louise Rougret, Illustrated by: Simeon van den Bergh, Designed by: Hannes esterhuyse, Edited by: Ester Levinrad With the help from Book Dash
In this tale Zandi and Birdy Monster do everything together, from playing superheroes and mixing magic potions, to playing cards and visiting grandma. No one else can see Birdy Monster but Zandi doesn't mind. Birdy Monster helps Zandi when she's scared too.
Written by: Sam Wilson, Illustrated by: Annika Brandow, Designed by: Wilna Combrink, Edited by: Lisa Treffry-Goatley With the help from Book Dash participants in Cape Town on 14 april 2018
You! Yes You! is a fun interactive children's storybook. We're going on a monster hunt, and what fun we're going to have, shaking, blowing, tickling, and lots of surprises. This fun book is bound to keep young children entertained and asking for "Again! Again!" – make sure you follow the instructions, strictly! (And of course, read it all over again if they ask :-).
More books about Insects from FreeKidsBooks
Author: Vena Kapoor, Illustrator: Pia Meenakshi
Shama takes her two younger friends Kaveri and Shivi on a spider hunt. They find lots of different types of spiders, and Shama helps them learn about all the different names.
The book combines some fun rhythm and rhyme with a cute spider hunt tale, friendship and biology lessons.
Illustrated by: Steven McKimmie, Written by: Candice Dingwall, Designed by: Telri Stoop
Little Ant's Big Plan – Little Ant loved to read! But ants don't read, they feed, or do they? Find out what happens to little ant and his love of reading, in this rhyming and wonderfully illustrated creative commons picture book by BookDash.
Illustrated by: Megan Vermaak, Writtend by: Mathapelo Mabaso, Designed by: Chenél Ferreira, Edited by: Robert Plummer
Wiggle-Jiggle is a cute and cuddly caterpillar story with very cute rhythm, rhyme, and repetition.  Young children will love this short, beautifully illustrated picturebook. Young children will love all the fun sound words along with the bright pictures, and the inevitable ending.