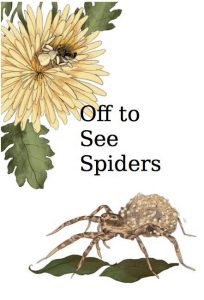 In Off to See Spiders, we have a fun biology lesson about all the different types of spiders.
Shama takes her two younger friends Kaveri and Shivi on a spider hunt. They find lots of different types of spiders, and Shama helps them learn about all the different names.
The book combines some fun rhythm and rhyme with a cute spider hunt tale, friendship and biology lessons.
The book explains that many types of spiders are not scary at all, they're fascinating.
At the end of the book there is a description of the eight different types of common spiders featured in the book.
This book is rated level 3 by Pratham, it is suitable for Grade 2 to 3 mid-level reading groups, and is a fun book to read as a school reading exercise. The reading time is around 10 minutes for a fluent reader.
Some ideas for school projects around Off to See Spiders Biology Picture Book:
Make a lap book about different types of spiders;
Research the scientific names and some more details about some (or all) of the spiders featured in the book;
Collect some spiders and create a terrarium to study their habits.
Sample Text From Off to See Spiders Biology Picture Book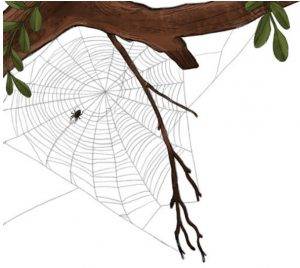 We are off to see spiders, Some large as a plate, some small as a pin.
We will see so many spiders, Our heads will spin, spin, spin!
"Is that an ant or a spider?" asks Kaveri. It looks like an ant, but it has eight legs.
"Uff, ants are insects. All insects have six legs, not eight. But you are right, this does look like an ant!" says Shivi.
"Full marks," says Shama. "It is an ant-mimic spider."
Kaveri and Shivi love being with Shama. She is studying to be a wildlife biologist and is full of fun facts and stories about different animals and plants.

<End of page 2>
This book was brought to us in creative commons by Pratham's Storyweaver platform. Storyweaver helps to improve literacy worldwide by providing free creative commons resources for children.
About Pratham, Read India
Pratham Books was set up in 2004, as part of the Read India movement, a nation-wide campaign to promote reading among children. Pratham Books is a not-for-profit organization that publishes quality books for children in multiple Indian languages.
Pratham's mission is to see "a book in every child's hand" and democratize the joy of reading.
Pratham's books are available now in digital form on the Storyweaver platform.
More books from Pratham are available in our Pratham-Storyweaver category.
---
Sponsored Links:
Note – if you sign up through these links, it doesn't cost you any extra, but FKB receives a small donation, which helps us move towards our aim of
FREE Hardcopies!  
All our posts are checked by Grammarly, the FREE online grammar checker (We still receive a donation even if you only sign up for the free account :-):


This site is hosted by Bluehost:

Leave a comment (it won't be public) if you want help getting your own website cost-effectively.