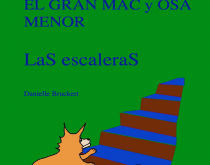 Mac and Dipper, a classic from Free Kids Books early days, has been translated into Spanish, here's the free Spanish Children Book in an editable version. This translation was contributed by Noelia Zaballa of Buenos Aires, Argentina.
Author: Danielle Bruckert, Translated by Noelia Zaballa
Big Mac learns to face his fears, and to not judge by appearances, Little Dipper has fun helping Mac, and at the end of the adventure both are happy to find friendship. Kids book about two dogs and their adventures, the first in the series. Suitable for reading to 3-5, reading by 7-10.
See more books from the Author below