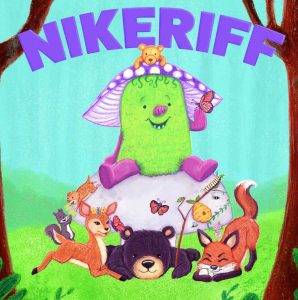 Curious but forgetful monster Nikeriff is anxious to remember his alphabet, and heads into the woods for a scavenger hunt. As he sneaks and climbs, he grabs and lassoes anything he can find from A to Z and puts them into his overstuffed wriggly sac. In the end, they bite, claw and chew their way out, but not before he finally remembers his Alphabet.
Sample Text from Nikeriff
Deep in the woods, inside monster school, a curious but forgetful little monster named Nikeriff could not remember the letters in the alphabet.
Nikeriff asked his mom and dad for help. They gave him a large sac and a piece of paper with the alphabet written on it and said "Go on a scavenger hunt! Find one thing in the forest that begins with each letter of the alphabet and put it in your sac!"
Nikeriff was very excited. With his teddy bear on his head, letters in one hand and sac in the other, he headed into the woods for his scavenge hunt!
On his hunt, Nikeriff spotted an ARMY of ANTS, a BABY BEAR and a CATERPILLAR.
He put them all into his sac.
Next, he saw a baby DEER, tortoise EGGS, and a sneaky FOX trying to snatch an egg for lunch.
Nikeriff swooped them all up into his sac.
<End of sample>
Read the full book on the buttons below the post.
See more books about the alphabet here: