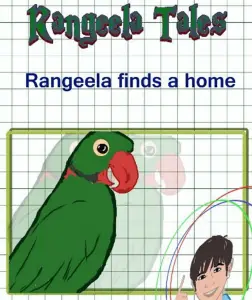 Rangeela Finds a Home, is the first book in a series of adventures Rangeela's Tales, featuring a young boy and a parrot. Rangeela winds up very beaten up and nearly lunch for the cat when the young boy Navjyot rescues the near-to-death parrot and wins his trust. Navyjyot finds that Rangeela is a very special parrot and has very special talents.
Rangeela Tales is a series of stories about the duo, and also about Navjyot's nosy cousin, Nimi, and her black cat, Robber, who is on a mission to end Rangeela's existence.
Another free Kids Book by Gita V. Reddy.
This book is provided by permission of the author to publish on FKB, it is copyright and can be used for private use only.