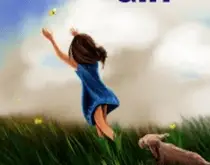 Daksha lives in a remote hamlet in the Himalayas. After losing her family to flashfloods, she grows up in the village community and gains knowledge of herbal medicine by helping the Vaidya. A chance encounter opens up a new life that includes schooling. But Daksha longs for her mountain home….This is an inspirational story set in a faraway land.
By: Gita V. Reddy
Sample Page From Daksha The Medicine Girl:
It was a clear day, without any mist, and a pale sun shone in the sky. The ice- covered mountains glowed with a quiet light. Daksha stood watching Panditji, the vaidya, go slowly down the mountain on his mule. She watched until he was a speck in the white landscape.
(vaidya: an ayurvedic doctor; ayurveda: traditional medicine, native to India).
Daksha's hamlet was high up in the Himalayas. It was surrounded by mountains that remained ice-clad all through the year. The nearest village was a good two-day mule ride away. During the winter months, the route was frequently impassable. Three or four days of heavy snowfall were enough to block the narrow path and cut the hamlet from the rest of the world.
Daksha breathed in the mountain air. There was a whiff of fresh chill in the air and the sky was changing color to the north. It would snow within the next two days.
"What will you make of it?" she asked the week- old lamb cradled in her arms. "You will have to stay indoors. Will you miss the valley?"
The lamb rubbed his head against Daksha. "You will be just fine. We're moving into Panditji's house. It's warmer than ours," she told him.
<End of Sample Page>
About the Author:
Gita V. Reddyloves to write fiction for readers of all ages: adults, middle graders, and kids. She enjoys thinking up tales of different genres. She has written mysteries, adventure, fantasy, science fiction, and even an animal tale for children.
Gita advises her fiction is clean and clear, "I don't follow the recent trend of burps and farts in kid's books either" she advises. I build upon interesting story lines, plots, twists and turns, captivating characters, and humor. Providing a range of books from early picture books to adult fiction, she hopes to grow readers and encourage a love of reading. 
Ms Reddy was born in India, is a post graduate in Mathematics, worked in a bank for twenty-six years, is married to a physics professor, has a son doing research in neuro-electronics, and loves literature. Yes, her life is as mixed up as the multiple genres she writes.  She enjoys trying her hand at new things and spending time with her family, and LOVES walking in the rain.
Gita's FKB category here: https://freekidsbooks.org/category/author/gita-v-reddy/
Gita's own website is here: http://www.gitavreddy.com
Gita's Books on Amazon here: https://www.amazon.com/Gita-V.-Reddy/e/B00D3YMQ0M
See Gita's free picture book here: https://freekidsbooks.org/bee-not-so-busy/
By: Gita V. Reddy
Bee Not So Busy – isn't like the other bees, she doesn't like to be busy, but when she looks for a different way, she makes some interesting discoveries. This book is brought to you in Creative Commons by Gita Reddy.
Check Out More Chapter Books:
See more Inspirational books below
---
Sponsored Links:
Note – if you sign up through these links, it doesn't cost you any extra, but FKB receives a small donation, which helps us with our project to buy more FREE Hardcopies   for kids who need them

All our posts are checked by Grammarly, the FREE online grammar checker (We still receive a donation even if you only sign up for the free account :-):