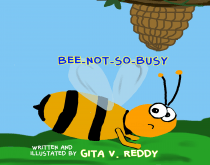 Bee Not So Busy – isn't like the other bees, she doesn't like to be busy, but when she looks for a different way, she makes some interesting discoveries. This book is brought to you in Creative Commons by Gita Reddy.
By: Gita V. Reddy
Text and Images from Bee Not So Busy
All day long the Busy-Bees flew from hive to flower and back to hive, gathering pollen and nectar.
Their wings beat so fast that they caused a buzz!
"Look at us! We're humming with activity!" they sang.
Bee-Not-So-Busy was different from the other bees.
"Why don't bees enjoy the garden like the other insects?" she wondered.
<end of sample>
See more books about insects below