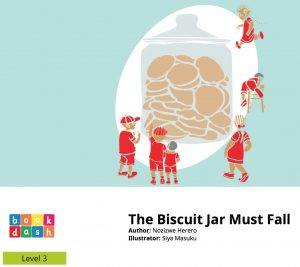 The children are offered a reward of biscuits if they clean up, but when it's time to get the biscuits their minder is nowhere to be found. An adventure in teamwork results as they endeavor to get the biscuit jar down from the shelf. Will they get it down in the end? Find out in this short, sweet book from BookDash.
Sample Text from The Biscuit Jar Must Fall
Micki and her friends Lolo and Unathi were reading their favourite books.
"If you help Micki clean her room, "Prudence said, "you can all have biscuits afterwards."
"YAY!"
But they carried on and read and read and read.
Then they stopped reading and cleaned Micki's room.
"My room is tidy now," Micki said. "Let's go and get biscuits." But they could not find Prudence anywhere.
<End of sample text>
Read the full book by selecting one of the buttons below the post
This book was brought to us by BookDash.
See more books from BookDash below: