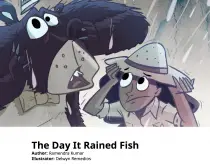 The Day It Rained Fish – Imagine if it started raining, but not water, fish! Would it be a good thing or a bad thing? Find out in this short illustrated creative commons book from Storyweaver. This is a Level 2 free book created in Pratham's 6 frame challenge, that is the story has only 6 frames, so The Day It Rained Fish is great for reading exercises based on short stories with questions or reading when time is short.
By: Ramendra Kumar and Delwyn Remedios
Sample Page From The Day It Rained Fish: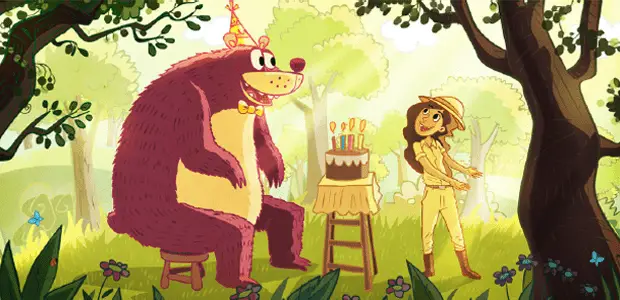 Avanti was the zookeeper of Pitara zoo. There were many animals in Pitara, but Avanti's best friend was Ballu, the brea. Ballu was big, brown and strong. On his fourth birthday, Avanti organized a little party for Ballu.
<End of Sample Page From The Day It Rained Fish>
About Pratham Books
Pratham Books goes digital, FKB  is helping with their aim to get a book in every child's hand!
Storyweaver, their digital platform is provided to weave a whole new chapter in the realm of multilingual children's stories. Knitting together children, authors, illustrators and publishers. Folding in teachers, and translators. Creating a rich fabric of openly licensed multilingual stories for the children of India and the world. Their unique online platform, StoryWeaver, is a playground where children, parents, teachers and librarians can get creative, using the resources to make your own unique books online.
About Creative Commons
Content under Creative Commons licenses can be downloaded, translated and can even be used to create new stories ‐ provided you give appropriate credit, and indicate if changes were made. To know more about this, and the full terms of use and attribution, please visit the following.
Check Out More Books from Pratham and Storyweaver:
Naughty or Not is a fun read for young children, and entertaining for toddlers. Are they being good today, or naughty? Learn interactively through interesting questions and answers.
Story of Stories is a picture book about a writer bear following his dream to write. What would happen if you were a journalist but there was nothing to write about? Should you give up writing? Or should you find another way to follow your dream?
Does it seem journalists have to write breaking stories about bad stuff all the time? What if they wrote about funny, happy, moving, or even sad, and scary stories? If a story had more depth wouldn't people enjoy it more?
Dive! explores the underwater world, stepping you through the experience of going scuba diving on a coral reef. Take a dive with us into the spectacular world of coral reefs, and catch a glimpse of some strange and beautiful sea creatures!