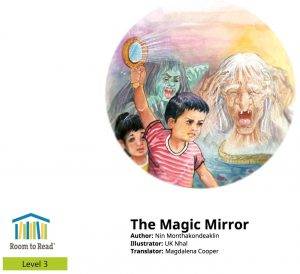 The Magic Mirror – A witch puts a curse on the village children, only Sam and Soy, brother and sister, are free from the curse. Sam must find the magic mirror to defeat the witch and bring it back within 3 days. Sam and Soy meet many mysterious creatures along their journey. Will Sam and Soy save the children from being cursed forever?
Sample Text From The Magic Mirror
Once upon a time not long ago, a group of friends were playing in a village when suddenly a strong wind swept them away.
"What is this place?" they asked? "Where are we? It's so quiet and scary."
"Look! There's a house," said one. "Let's go and see if someone is there to help us."
The children walked to the house and peeked in the window. There, they saw a table full of delicious food. Suddenly, the front door opened as if by magic.
A strange voice called out to them. "You look hungry. Come in and eat."
Sam was suspicious. "I don't think we should eat this food," he warned his friends.
"But we are so hungry!" they wailed. "We can't bear this hunger any more and the food looks so good."
"Don't eat it if you don't want to," said one friend "but don't stop us."
<End of Sample Text>
Read the full book by selecting one of the buttons below the post.
If you liked this book see more books from Room to Read below: