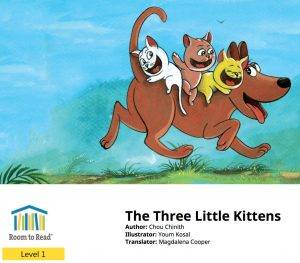 A chase with a dog ends up in a humorous adventure. The three little kittens are running from a dog, so fast they don't stop for anything, until they are trapped, will the dog catch them? Or will there be a happy ending?
Sample Text from Three Little Kittens
One day three little kittens meet a big dog.
The kittens are scared of the dog.
The little kittens run…
…and the dog follows them.
<End of sample from Three Little Kittens>
Read the full book by selecting one of the buttons below the post.
This adorable tale of three kittens and a dog is brought to us by Room to Read. See more books from Room to Read below: