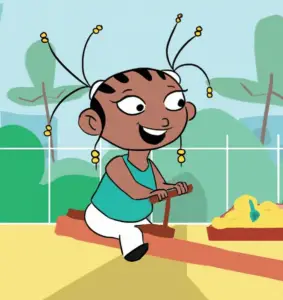 Tumi Goes to the Park provides a great narrative story book of a trip with Mum to the park for the first time. Slides, monkey bars, merry-go-rounds, and see-saws provide exiting adventures, as well as making sand castles and meeting new friends.
This simple book makes a fun short read with lots of excitement for very young children and would make a great book for siblings learning to read to read to a younger child.
Sample Text from Tumi Goes to the Park
It's Tumi's first trip tot he park.
"Mama, what's that? "
"It's a slide," says Mama.
"May I go on it?" asks Tumi. "Of course!" says Mama.
<End of page 2>
Tumi Goes to the Park is another great creative commons book, brought to us by BookDash.