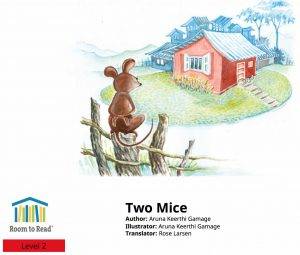 In Two Mice a little brown mouse encounters a computer mouse and challenges his new friend to find out what can a real mouse do and each time his new friend matches the challenge and betters.
Sample Text from Two Mice
One day, a little mouse climbed onto the table to explore. "Oooh, yum! This looks tasty."
"Oww! Owww! Who's hurting me?" cried a voice.
"Who are you?" asked the mouse. "I'm a mouse," was the response.
"But I'm a mouse." "I'm a mouse too."
The first mouse laughed.
"Haha! What kind of a mouse are you?
What can you do?"
<End of sample>
Select one of the buttons below the post to read the full book.
This book was brought to us by Room to Read,
See more books from Room to Read below: