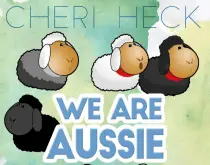 We Are Aussies – Aussie Shepherds are a part of Australian history, friends, lifelong companions, and great workers. This  beautifully illustrated endearing tale is all about the famous Aussie Sheepdog, with real photos and facts to top it off.
By: Cheri Heck
Sample Text from We Are Aussies
Hi. I'm Kala.
I am a real dog, not just a cartoon. The stories I am about to share with you are my real adventures.
If you never met an Australian Shepherd, or Aussie for short, you are in for a real treat.
Kala and Kode LET ME TELL YOU A LITTLE BIT ABOUT AUSSIES Someone noticed how adorable we were and the rest is history.
<end of sample>
See more books about dogs below