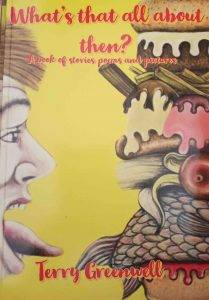 "What's That All About Then?" is a book of poetry for children which provides a whimsical look at all kinds of growing-up experiences.
Subjects range from personal concerns of childhood such as ownership, bullying, self-esteem, family issues, school experiences, coping with loss, the pains and joys of growing up, imaginary friends, and superheroes to wider concerns such as the environment, plastic pollution, and our choices of faith. The poems themselves range from performance based raps and chanting to longer narrative style pieces.
"What's that all about then?" is written with humour but often has a serious message to convey. The poems are illustrated with fun comics and imagery.
Terry Greenwell trained as an artist, studied art and English literature, and later qualified as a primary school teacher where he began writing poems for children. His poems are tried and tested in the classroom and pupils find the poems and stories funny, relevant, and are encouraged to write and perform their own poetry.
You can catch up with Terry at his facebook page: https://www.facebook.com/everydayheroesandtheoddvillain or at his TES Page: https://www.tes.com/teaching-resources/shop/terry400 
If you enjoyed this book see more like this in our poetry section below.