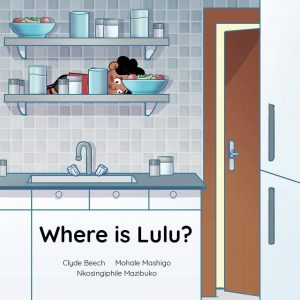 In Where's Lulu, a short fun book for very young children, Lulu's hiding from her Mum, she doesn't want to go out. But why is it she doesn't want to go out? Find out more in this fun short picture book. Can you see her on each page?
This book teaches children about the fun of books, taking books and returning them to the library, and plays an interactive game of hide and seek on the pages as we go. What more could you ask for in a combination of fun and learning?
This short fun read is brought to us in the creative commons by BookDash, who, like us, aim to help every child have enough to read, no matter what circumstances.
Bookdash have a great collection of picture books, mainly aimed at young children and early readers, created by volunteers, and provided free under creative commons licenses. See more of Bookdash's books on FKB here in the Bookdash Category.
Sample Text From Where's Lulu
"Oh, no!"
"Lulu! It's time to go," calls Ma.
Where is Lulu?
Is she under the sofa?
Is she behind the curtain?
"Lulu! It's time to go. Where are you?" calls Ma.
"There you are!"
"I don't want to gooo!"
I'd paste the whole text but I don't want to ruin the surprise, as it's so much more fun with the pictures! Click on the read online to view the flipbook, or click on pdf download buttons to see a view and print-friendly version that you can open in a browser (temporary) or save for on and offline viewing.
Read Along with Where's Lulu
If you want to listen to the book while reading along with the text  – here is a link to a youtube recording, the introduction is in Japanese, but the entire book is read in clear well pronounced English. The video provides a voiceover matched with each page which shows the text clearly, perfect for improving listening comprehension and word recognition.
More from BookDash
More books for early readers below
---
All our posts are checked by Grammarly, the free online grammar checker (British English used):
This site is hosted by Bluehost:

Leave a comment (it won't be public) if you want help getting your own website cost-effectively.