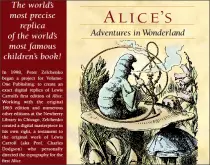 Alice sees a white rabbit with a waist coat and pocket watch disappearing down a rabbit hole, what follows depicts the epitome of children's imagination, a classic fantasy tale, combined with subtle logic based adult intricacies in Lewis Carroll's (Charles Dodgeson – mathematician) classic tale of Alice in Wonderland that can be enjoyed at any age. This edition is an excellent quality scanned pdf, the hard copy was created by Peter Zelchenko in 1998, and is intended to be as close as possible to the original 1865 version, with illustrations by John Tenniel.
                                                       By: Lewis Carroll
Excerpt: ALICE was beginning to get very tired of sitting by her sister on the bank, and of having nothing to do : once or twice she had peeped into the book her sister was reading, but it had no pictures or conversations in it, " and what is the use of a book," thought Alice, " without pictures or conversations ?"
About the Author: Born on January 27, 1832 Charles Lutwidge Dodgson or better known by his pen name Lewis Carroll was a famous English writer, photographer, mathematician, logician and anglican deacon. Among his works are the famous "Alice Adventure In Wonderland".