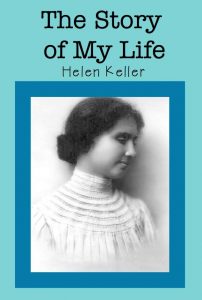 Helen Keller's Autobiography, written at age 22, and details her growing up, before and after meeting Anne Sullivan, and her years in formal education, both special needs education and afterwards when she was accepted into main stream education, with the help of Ms Sullivan's translation. The book includes letters written by Helen from the age when she first began education at 8 years old to the time just before she entered college, as an adult and also includes some letters from Anne Sullivan.
This book has been formatted for sharing in a user friendly pdf format by Free Kids Books, the editable format, odt, is also available, here:  https://freekidsbooks.org/wp-content/uploads/2019/12/FKB-The_Story_Of_My_Life-Hellen-Keller-PD.odt
You can see more books about disability in our disability tag: https://freekidsbooks.org/tag/disability/
Text from The Story of My Life – Helen Keller's Autobiography
The Story of My Life – Helen Keller
---
I. THE STORY OF MY LIFE
CHAPTER I
It is with a kind of fear that I begin to write the history of my life.I have, as it were, a superstitious hesitation in lifting the veil thatclings about my childhood like a golden mist.
The task of writing anautobiography is a diffcult one. When I try to classify my earliestimpressions, I fnd that fact and fancy look alike across the years thatlink the past with the present.
The woman paints the child's experiencesin her own fantasy. A few impressions stand out vividly from the frstyears of my life; but "the shadows of the prison-house are on the rest.
"Besides, many of the joys and sorrows of childhood have lost theirpoignancy; and many incidents of vital importance in my early educationhave been forgotten in the excitement of great discoveries.
In order,therefore, not to be tedious I shall try to present in a series ofsketches only the episodes that seem to me to be the most interestingand important.I was born on June 27, 1880, in Tuscumbia, a little town of northernAlabama.
The family on my father's side is descended from Caspar Keller, a nativeof Switzerland, who settled in Maryland. One of my Swiss ancestors wasthe frst teacher of the deaf in Zurich and wrote a book on the subjectof their education–rather a singular coincidence; though it is truethat there is no king who has not had a slave among his ancestors, andno slave who has not had a king among his.
---
Free ebook from https://www.freekidsbooks.org
<end of excerpt – Helen Keller's Autobiography>
See more of our Biography books below
See more of our books about Differences and Diversity below
---
Sponsored Links:
Note – if you sign up through these links, it doesn't cost you any extra, but FKB receives a small donation, which helps us with our project to buy more FREE Hardcopies   for kids who need them

All our posts are checked by Grammarly, the FREE online grammar checker (We still receive a donation even if you only sign up for the free account :-):