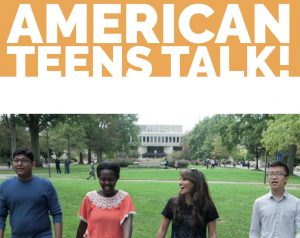 American Teens Talk is a book of interviews with plain ordinary, multi-cultural teenagers in the USA. The book was created by the US State Department's Office of English Language Programs. A great way for new English speakers to understand every day language, and improve their English comprehension skills.
Here's what the compiler has to say:
In the summer of 2009, I had a wonderful opportunity to spend three weeks with a group of Tajik English teachers. One of the teachers said that her students would like to have a book of stories about American teenagers. When I returned home, I couldn't find a book like that, so I began to interview ordinary young people about their everyday lives and send the interviews to some English teachers and learners. When I asked teenagers for an interview, they almost always said, "But I don't do anything special." I told them, "That's exactly what I want: ordinary life and ordinary English."
Sample From American Teens Talk:
Bianca 17: What have you been doing this week?
Well, this week I started with having a day off on Monday, but I've been doing a lot of calculus homework the entire week.
I was lucky enough to go to a conference today, on women's philanthropy,* and
I was so excited to meet a lot of people who are involved in supporting many philanthropies which deal with feeding the hungry in my area.
Max 15: What have you been doing this week?
Oh well, let's see, this has been a different week than usual. Last Friday my school orchestra went to Atlanta, Georgia, where we went to perform in a competition and we went everywhere in Atlanta after that. We went to the Hard Rock Cafe* and even got to listen to the Atlanta Symphony.
It was like a two-and-a-half-hour performance, but they were unbelievable! It was great!
The next day we attended the actual competition and were ranked as being superior, which is the best ranking of course. And after that we went to Six Flags, the amusement park, for about nine hours and rode just about every ride there.
And then the next day we went to the Georgia Aquarium and got to see all sorts of sea life that was really cool from all over the world. And after that we went to the World of Coca-Cola* and got to taste sodas* from every continent. It was very neat.*
Following that day we got back on the bus and rode five hours all the way home watching Jack Black movies.
More Books Like This:
If you enjoyed American Teens Talk, see more books for teenagers in our Young Adults Section here: https://freekidsbooks.org/category/young_adult/
Young Adults Books:
This work is produced by a US government employee during their course of work – therefore it is in public domain and completely copyright free. (And you thought you didn't get anything for your tax!)
See more public domain books here: https://freekidsbooks.org/license/public-domain/
---
Sponsored Links:
Note – if you sign up through these links, it doesn't cost you any extra, but FKB receives a small donation, which helps us with our project to buy more FREE Hardcopies   for kids who need them

All our posts are checked by Grammarly, the FREE online grammar checker (We still receive a donation even if you only sign up for the free account :-):