Around the world with a chilli contains lots of fun facts for children about chilies and the places they come from. A young boy in India meets Ajar Uchu, the spirit of the chillies. The spirit tells the young boy all about the countries chillies come from and the travelers who traded with them and brought chillies to the world. Great fun facts about history, early explorers, trade routes, and early empires.
Another great free children's story for older children by Story Weaver and Pratham.
Author: Nayan Chanda Illustrator: Priya Kuriyan
Sample Text and Images from Around the World with a Chilli
The sun had just dipped behind the coconut, mango and chiku trees that ring Appu's house. The sky was still tinged with pink. The kitchen garden where the family grew brinjals, tomatoes and bottle gourd was still bathed in a soft light. Flocks of birds flew across the sky on their way home.
Appu's mother was making fish curry for dinner and wanted some fresh green chillies. Twelve year old Appu had gone to the garden to pick some fully grown, shiny green chillies when he was startled to hear a deep voice, "I am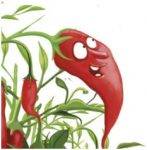 so glad your family likes my offerings."
Appu's hair stood on end. He turned around to see who had sneaked up on him. The heavy but soothing voice seemed to come out of the knee-high, leafy chilli plant. "Don't be frightened, I am Ajar Uchu, known as the Spirit of Chillies," it said.
"You water the plants every evening and take care of them. I am so happy to be loved and admired. I am tens of
thousands of miles away from home, and so your care means a lot to me."
Appu took a few moments to recover from the shock of hearing a voice from the plant. Appu asked, "Where do you come from?"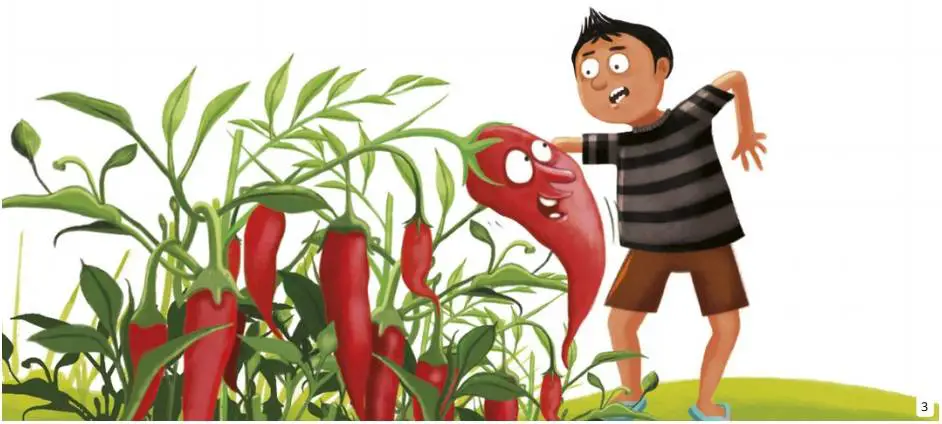 Sample Text and Images from Page 7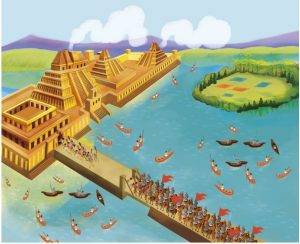 Aztec and Inca Empire
In what is now Mexico there was an older civilization created by the Aztecs. They spoke a common language – Nahuatl. Some 700 years ago they organized themselves into an empire. They had developed a rich agriculture growing corn, chilli pepper, avocado and other fruits. They also grew fine cotton to weave beautiful clothes and had plentiful gold to make jewelry. In the middle of a lake they built Tenochtitlan, their capital city.
End of Sample
About Pratham Books
Pratham Books goes digital, FKB  is helping with their aim to get a book in every child's hand!
Storyweaver, their digital platform is provided to weave a whole new chapter in the realm of multilingual children's stories. Knitting together children, authors, illustrators and publishers. Folding in teachers, and translators. Creating a rich fabric of openly licensed multilingual stories for the children of India and the world. Their unique online platform, StoryWeaver, is a playground where children, parents, teachers and librarians can get creative, using the resources to make your own unique books online.
About Creative Commons
Content under Creative Commons licenses can be downloaded, translated and can even be used to create new stories ‐ provided you give appropriate credit, and indicate if changes were made. To know more about this, and the full terms of use and attribution, please visit the following.
Similar Books you may enjoy:
See more books by Pratham's Storyweaver below
---
Sponsored Links:
Note – if you sign up through these links, it doesn't cost you any extra, but FKB receives a small donation, which helps us with our project to buy more FREE Hardcopies   for kids who need them

All our posts are checked by Grammarly, the FREE online grammar checker (We still receive a donation even if you only sign up for the free account :-):