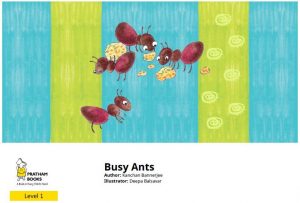 Busy Ants – In this story we follow the ants as they show us what magnificent little creature they are. This book will keep your young readers entertained as they learn all about how busy the ants are and what they do, and more and us have in common. This book is one of the four books in the 'Animals Around Us' series.
This is a Level 1 book brought to us by Prathams' Storyweaver. This book is perfect for children who are eager to start reading. Level 1 books have lots of pictures with images to help illustrate the words being said so that young readers will have a better understanding of the meaning of the words.
Download or read the flipbook online of the full version of this English story book Busy Ants on the buttons below the post.
Busy Ants (English) is written by Kanchan Bannerjee, illustrated by Deepa Balsavar, published by Pratham Books (© Pratham Books, 2015) under a CC BY 4.0 license on StoryWeaver. Read, create and translate stories for free on www.storyweaver.org.in
Text from Busy Ants with Sample Images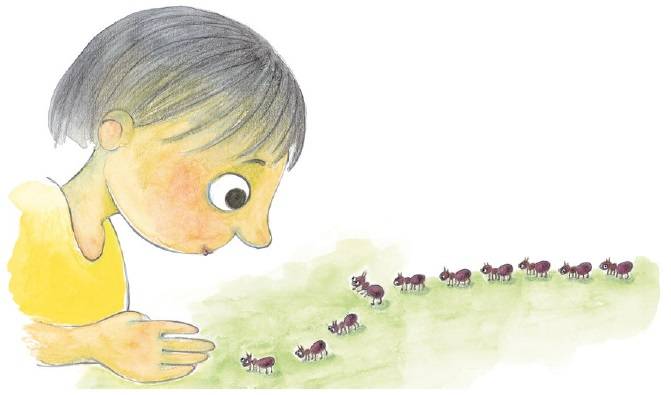 Hello, I am the fourth one in the line. Can you see me?
Left, right, left, right. We walk silently in a line.
I just got an idea. I am going to get a set of WHEELS to move faster!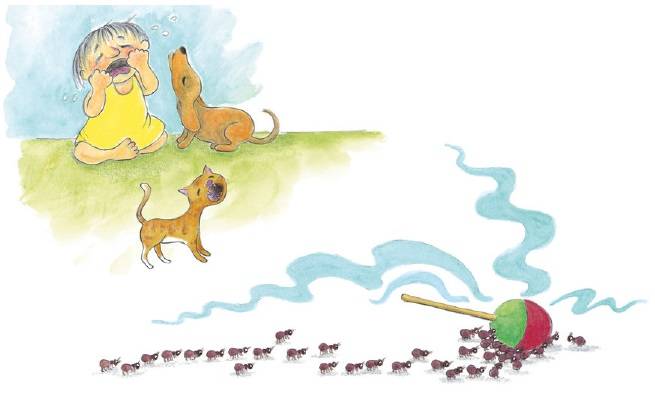 We are not noisy like other animals. Ours is a language of smells.
One kind of smell says, "Follow me this way for a feast."
Another smell says, "Danger! Do not go there."
I love cakes and all kinds of sweets, just like you.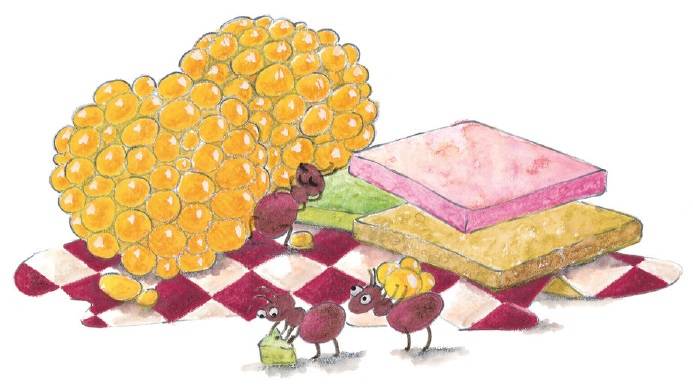 Want to see my muscles at work?
I may look very tiny to you, but I am very strong.
Never mind if the door is shut. I can slip through the smallest crack.
Believe it or not, hundreds of us live happily in a colony.
<end of text and sample images from Busy Ants>
Download/read online free on the buttons below the post!
LET US LEARN SOME NEW WORDS.
Small – Big
Slow – Fast
Short – Tall
Thin – Fat
Hard – Soft
Noisy – Quiet
Here are some words with their opposites. Can you make a sentence for each pair of opposite words?
For example, 'An ant is small; an elephant is big'. "As busy as an ant" is a nice way to describe someone who is very hard working.
Reading Comprehension Questions and Worksheet
Here are some reading comprehension questions based on the story:
Based on the text, answer yes of no to the following questions:
1. Do ants like sweets?
2. Do ants use a language of smells?
3. Do ants live alone?
Give a similar (synonym) word for the following:
4. Small
5. Fast
Give the opposite (antonym) for the following words:
6. Noisy
7. Sweet
Answer the following questions:
8. What do you like about this story?
9. What do you not like about this story?
10. What have you learned about ants?
See also the following worksheet based on this book from ISL Collective:
Worksheet based on Busy Ants – viewable/printable pdf
Worksheet based on Bust Ants – editable odt
ISL Collective – doc file
About Pratham, Read India
Pratham Books was set up in 2004, as part of the Read India movement, a nation-wide campaign to promote reading among children. Pratham Books is a not-for-profit organization that publishes quality books for children in multiple Indian languages. Pratham's mission is to see "a book in every child's hand" and democratize the joy of reading.
Pratham's books are available now in digital form on the Storyweaver platform.
Read along with the video below
Read Busy Ants in different languages below
See more Pratham books' Storyweaver below
See more books in Spanish below
See more books in French below
---
Sponsored Links:
Note – if you sign up through these links, it doesn't cost you any extra, but FKB receives a small donation, which helps us move towards our aim of
FREE Hardcopies!  
All our posts are checked by Grammarly, the FREE online grammar checker (We still receive a donation even if you only sign up for the free account :-):