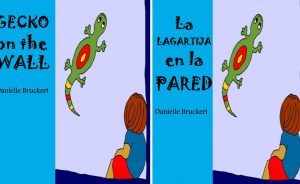 Gecko On The Wall Spanish Bilingual Children's Stories – A very kind student in Argentina who is starting out on her career as a translator has been translating many of our books into Spanish. I've just received this file with Gecko on the Wall, a short rhyming book, translated into Spanish.
Written by Danielle Bruckert
Translated by Noelia Zaballa
She first wrote to me about Mac and Dipper, to advise me she had translated it into Spanish as an assigned text in her university course – wow, Mac and Dipper (the characters responsible for the very beginnings of FKB) are a prescribed text in Buenos Aires!
The attached book here is a translation of gecko on the wall into a spanish bilingual children's stories, another book of mine from our early days, and one of my favourites. Translating rhyme is so much harder, I sometimes wonder myself how it is done. This is the second time I've had a rhyming book translated (see Bugs by Numbers) and both times the authors were kind enough to provide explanations of differences, Noelia has going one step further to help those learning Spainsh by providing this table that shows you how the rhyme has been translated.
Gecko in the Wall (Literal translation of rhymes)
All nouns in Spanish are either feminine or masculine independently of the gender of the animal. "Lagartija" (gecko) is feminine even if the gecko in question is a male, so all the adjectives and articles used are for female gender.
Original

Translation

Literal Meaning

There's a gecko on my wall,

I don't mind him there at all;

Lying quietly watching me,

he is quite good company.

En mi pared hay una lagartija,

Y verla ahí me regocija;

Siempre quieta ella me mira,

Y me hace companía.

There's a gecko on my wall,

And I like seeing it there;

Lying quietly watching me,

Makes me good company.

There's a gecko on the rock,

she seems to be wearing a frock;

And I think she is asking me,

if I want to come to tea.

Hay una lagartija en la roca,

parece que tiene algo de ropa;

Y creo que me ha invitado,

A tomar el té a su lado.

There's a gecko on the rock,

she seems to be wearing some clothes;

And I think she is asking me,

To drink tea by her side.

There's a gecko in the pool,

he really does look cool;

Sipping a long cool lemonade,

wearing sunglasses in the shade.

Hay una lagartija en la piscina,

acaba de salir de la cocina;

Y se trajo una fría limonada,

con anteojos y bastante relajada.

There's a gecko in the pool,

Who just came from the kitchen;

And brought a cool lemonade,

with sunglasses and quite relaxed.

There's a gecko on the roof,

he is acting quite aloof;

Whispering calmly to me:

I simply must get down,

since I have to go to town,

I need to be there by three.

Hay una lagartija en el techo,

con un traje recién hecho;

Me susurra muy bajito:

Yo ya tengo que bajar,

para ir a trabajar,

a mi lugar favorito.

There's a gecko on the roof,

Wearing a recently made suit;

Whispering calmly to me:

I simply must get down,

since I have to go to work,

to my favorite place.

Of all the geckos that I see:

The gecko on a rock in a frock;

The gecko looking cool in the pool;

The gecko who's aloof on the roof;

De todas las lagartijas que veo:

La lagartija en la roca con ropa;

La lagartija en la piscina que salió de la cocina;

La lagartija en el techo con el traje recién hecho;

Of all the geckos that I see:

The gecko on the rock wearing clothes;

The gecko in the pool that just came from the kitchen;

The gecko on the roof with a recently made suit;

I like best of all,

the gecko on my wall,

lying quietly,

watching me.

La que más me gusta,

es la que mi pared busca,

parada relajada,

sonríe con su mirada.

The one I like the most

Is the one that seeks my wall

Lying relaxed

 The End
El Fin