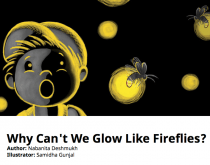 Why Can't We Glow Like Fireflies – Why does a fire fly glow? A fun non-fiction book packed with interesting facts about fireflies, and includes a fact summary and three suggested activities. Another great creative commons book from Storyweaver and Pratham Books.
By: Nabanita Deshmukh and Samidha Gunjal
Exert
Fireflies are small winged insects that glow in the dark but why do they shine and what creates this spark within them? They're bright and twinkling like little stars! I wish I could have glowed like them but I can't! Can anyone tell me why?
See more books about insects below