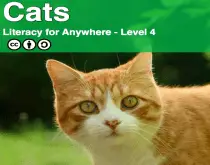 A non fiction book all about cats, big and small, including review questions and a writing exercise at the end. This is a well presented and well written creative commons addition from Open Equal Free, categorised by OEF as Level 4.
By: Michael A. Jones
Exert
Cats are meat-eating mammals that can be found all over the world. All the cats in the world are part of a family called Felidae. This family has small cats that live with humans but also giant cats that can hunt us.
See more Books about Cats below