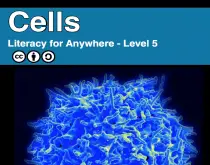 A non-fiction book all about cells, atoms, and other microscopic particles, including review questions and activities at the back. Suitable for school projects or home school lessons. Another great creative commons book from Open Equal Free.
By: Megan Smith, Elissa Alvey, Dane Stogner
Text and Images from Cells – Home School Lessons
Everything in the universe is made up of smaller
parts. A book is made up of pages, which are made of
paper. The paper is made of fibers, which are made of
molecules. Molecules are made of atoms.
If you keep breaking anything into smaller parts you
will eventually be left with atoms, the building blocks of
the universe. Stars, people, and everything in between
are made up of atoms.
Even atoms have parts. Atoms are made of electrons
and protons, which are negative and positive energies.
You can't see atoms because they are so very small.
In plants and animals, atoms come together to form
molecules, which come together to form all the parts of a
cell. Cells are called the building blocks of life. A cell is the
smallest living thing that can function on its own.
Cells are the basic unit of all living things: plants,
animals, fungi, and single celled organisms. Cells join
together to perform different tasks. Each cell is a separate
entity, but they are able to send and receive chemical
messages to communicate. By coming together to form
tissues, which come together to form organs, cells work
together to make us eat, grow, reproduce, respond to our environment, and adapt, things that all living creatures (even single-celled organisms) have to do.
<end of sample>
See more Classic Books below