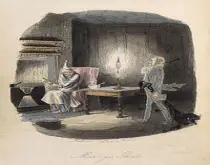 A Christmas Carol the classic tale of Ebenezer Scrooge and the ghosts of Christmas past, present, and future.
By: Charles Dickens
Excerpt: Marley was dead: to begin with. There is no doubt whatever about that. The register of his burial was signed by the clergyman, the clerk, the undertaker, and the chief mourner. Scrooge signed it. And Scrooge's name was good upon 'Change, for anything he chose to put his hand to.
About the Author: Charles John Huffam Dickens is recognised as a Literary Genius, He created some of the world's best-known fictional characters and is regarded as the greatest novelist of the Victorian era. he is an English writer and social critic Born on February 7, 1812 in Portsmouth. He is the Author of the famous classic tale A Christmas Carol.
See more Classic Books below