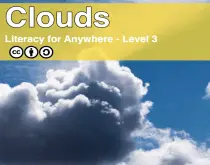 Clouds – An excellent look at clouds from a middle grade perspective, with lots of facts, and review questions and activities at the end. Another great non-fiction book from Open Equal Free's literacy anywhere library, categorised as Level 3 by OEF.
By: Aleyna La Croix, Michael A Jones
Text and Images from Clouds
Clouds
Level 3
Look up at the sky. In many places you will
see clouds. There are many different types of
clouds. They are all different shapes and sizes.
Have you ever wondered how clouds are
formed? Clouds are made of evaporated water.
Evaporation is when water changes from liquid
to gas.
Some clouds are fluffy, while others are wispy.
Some are big and others are small. Some even
resemble familiar shapes.
<end of sample>
See more Science Books below