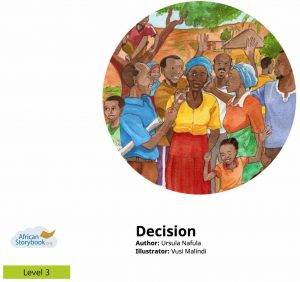 A village has many problems, a long line for water, lots of trash, dependant on food donations. They don't address the problems until it gets very bad, then they call a meeting and decide that working together is the best solution.
Author: Ursula Nafula, Illustrator: Vusi Malindi
Sample Text from Decision – Working together
My village had many problems. We made a long line to fetch water from one tap.
We waited for food donated by others.
We locked our houses early because of thieves.
Many children dropped out
of school.
Young girls worked as maids
in other villages.
<End of sample>
Read the full book by selecting one of the buttons below the post.
Read more books from African Storybook below: