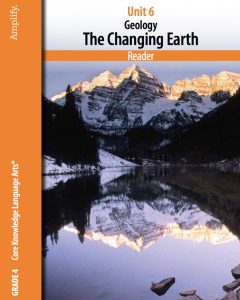 Geology – The Changing Earth is designed as a non-fiction reader for ELA grade 4, but can also be used as a science text for study in earth sciences.
Students explore how different geological processes shape the earth's landscape and related environments. the book explains how the earth is composed of layers that, through heat and pressure, cause movements that result in geological features above and below earth's surface, such as mountains, volcanoes, and trenches. The text also describes rock formation, weathering, and erosion in order to understand how the earth changes over time.
The activity book associated with this book provides exercises on writing informational and descriptive paragraphs and practicing using figurative language. The Changing Earth Lessons include explicit instruction in grammar, morphology, and spelling. There is also a teacher's guide available.
See more books like The Changing Earth here: CKF Geoolgy Grade 4 Resources
Geology – The Changing Earth Reader Contents
Earth's Changing Surface 2
Earth's Layers and Moving Plates 12
Earth's Shakes and Quakes 22
Earth's Fiery Volcanoes 32
Mythic Volcano Spirits 42 Earth's Building Blocks 52
Earth's Powerful Forces of Change 62
Earth's Mighty Mountains 72
Earth's Undersea World 82
Selections for Enrichment
The Rock Towns of Cappadocia 90
Violent Vesuvius 100
A Deep-Sea Detective Story 110
Glossary 119
https://www.coreknowledge.org/free-resource/ckla-unit-6-geology/
See more of our Science books below
---
Sponsored Links:
Note – if you sign up through these links, it doesn't cost you any extra, but FKB receives a small donation, which helps us with our project to buy more FREE Hardcopies   for kids who need them
All our posts are checked by Grammarly, the FREE online grammar checker (We still receive a donation even if you only sign up for the free account :-):