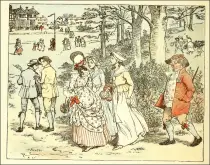 The Great Panjandrum Picture Book, A beautifully illustrated scanned copy of a classic collection of nursery rhymes style children's stories from a time gone by. The classic collection of short children's stories includes the infamous House that Jack Built.
By: Randolph Caldecott
Excerpt: Come Lasses and Lads, get leave of your Dads, And away to the May-pole hey For every he Has got him a she, with a minstrel standing by.
About the Author: Randolph Caldecott was an English artist and illustrator, born in Chester. The Caldecott Medal was named in his honour. He exercised his art chiefly in book illustrations.