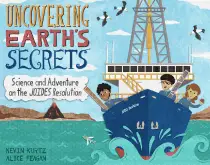 Uncovering Earth's Secrets and Where Wild Microbes Grow  written by Award-winning children's author Kevin Kurtz (http://kevinkurtz.com) and illustrated by award-winning illustrator Alice Feagan (http://alicefeagan.com), provide a fun introduction to the world of marine research.
Uncovering Earth's Secrets explains all the fun activities which are carried out onboard the research vessel, the JOIDES Resolution, as it explores the seafloor to learn more about earthquakes, volcanoes, the extinction of the dinosaurs and other mysteries of the Earth .
Where Wild Microbes Grow introduces kids to the exciting discovery that there are living creatures under the seafloor. Both are written in delightful rhyme with lovely, bright, cut-collage pictures.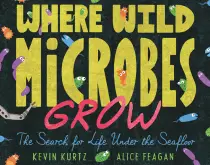 The author and illustrator were both inspired by their experiences aboard the JOIDES Resolution, so much so that they have made both books available completely free as a way of giving back.
To learn more about deep seafloor research and to find links to lots of other children's activities, including the free interactive iBook version of this book that can be read on iPads and Macs, visit http://joidesresolution.org/node/2998.
See more books like JOIDES Resolution below