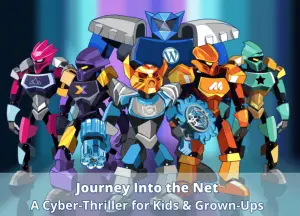 Journey into the net is a cyberspace children's adventure for children and adults. A subtle analogy on cyberspace to date including appearances from all sorts of familiar heroes and villains (including FKB's latest favourite the infamous WP).
This book is brought to us by MonsterPost, supplying themes, skins and all things related to blogs and websites.
Author Helga Moreno, Illustratrated by Marina Moyari.
Excerpt From the Book:
Hi! My name is TM20.02, but I got to know this by chance. I am living fast besides you, in your parents' computer,
on the World Wide Web, to be more exact. Ok, let's put it simple, I live on the Internet. I am sure you hear this word many times a day.
Would you like to see my world? Of course it's possible!
Look how beautiful it is.
<end of page 1>
Sample illustration pages:
Marina Moyari is a freelance illustrator with a vivid imagination and thirst for beauty. Helga Moreno, the author of this book, loves the internet, and has hundreds of articles on MonsterPost blog.