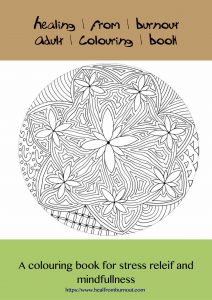 This Mindfulness YA Colouring Book is brought to us by Healing for Burnout. Lisa Callinan provides some great advice for people to relieve stress and avoid burnout, or deal with recovery from the after-effects if it has happened to you, and mindfulness colouring is a perfect way. The designs in this book are specifically shaped to create an ambiance of relaxation and Lisa provides some healing advice at the beginning and end of the book.
Enjoy this colouring book perfect for young adults and older children.
See more coloring books in our colouring book category.
Lisa Callinan healed from adrenal fatigue (emotional and physical burnout was the culprit) and is also a nearly recovered people pleaser. Her introvert nature could let her spend all day reading and browsing bookstores, but luckily she is also excited to write and speak about her experience with burnout and the gifts she found in the process and at the other end.
Sample Text from Introduction to this Mindfulness YA Colouring Book
While coloring may seem like a trivial adult activity, it is not something to be discounted for its tremendous relaxation and healing effects on the body.
I first began to color mandalas (circular, geometric designs) about 8 years ago. It was a time in my life when I was beginning to deeply consider how I could clean up the mess that I had created in my life. I was in a relationship and business that was not working and I felt trapped.
I was very drawn to coloring as a relaxation tool. The idea of adults using coloring as a relaxation activity had not yet gained popularity as it has recently begun to do, and even though I initially kept it to myself I could feel the calming and relaxing effects on my system. I was grateful a few years later when I was trying to recover from severe adrenal fatigue that I had developed the habit of regularly engaging in this activity. At that point I talked to many people about the coloring that I was doing and found many others eager to try it for themselves.
There has been a lot of research in recent years about the stress reduction benefits of engaging in activities that involve the fine motor movements of the hands such as coloring, drawing, painting or knitting. It is in fact the use of these fine, repetitive movements and the ability to stay focused on the activity at hand which results in positive physiological changes and a relaxation effect within the body.
<End of sample text from Mindfulness – Healing from Burnout – Colouring Book>
This book is included in our FKB Make a Difference program, since stress relief is such an important topic for health and well being.
See more about Lisa's work on her website Heal from Burnout.
See more of our Books for a Cause Below