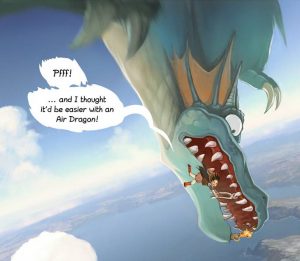 Pepper and Carrot Episode 14 PDF Another amazing episode in the Pepper and Carrot comic, in The Dragon's Tooth Pepper comes up with a novel solution for a problem, but is it the right problem she's solving to begin with? This comic with the beautiful illustrations and endearing characters is brought to us in Creative Commons by creator David Envoy.
This version of the Pepper and Carrot episode 14 pdf comic is separated into pages for the pdf viewer, otherwise, it is in original format. If you want a simpler way to see the comic, the original page spread can be downloaded here: Original Page Spread Pepper and Carrot episode 14 pdf
See all of the books by David Envoy on FKB here: https://freekidsbooks.org/illustrator/david-envoy-illustrator/
Or check out David's Pepper and Carrot site for more great comics.
Editor Note: I love the way comics appeal to the art of storytelling for those who don't specifically like a lot of text, while audio books are great, comics can be a great way to read for more visually orientated people and perfect for dyslexics, they bring the magic of picture books into an ageless genre.
I left a comic on the Pepper and Carrot site, saying we love the comics! And that we would repost some for our FKB audiences in pdf, and David actually responded :-), with "Hi! Thank you for republishing it and for the nice words!" We felt honored. Watch out for more from the French cartoonist and Pepper and Carrot soon.
About Pepper and Carrot
Pepper is a young Witch in a fictitious town called Chaosah, where everyone is sort of spicy, and Carrot is her very feline cute orange cat. Pepper and Carrot webcomics tackle lots of current issues and are fun for all ages.
About David Envoy
David Envoy is a French cartoonist and graphic artist who loves cats and all things open source. After ten years working in graphic art, primarily freelancing and teaching, he started his own project Pepper and Carrot. Releasing Pepper and Carrot as a creative commons work so that it could be shared and built upon in a practically unlimited way, the comic quickly went viral and had now become his full-time work.
Download and Read the Pepper and Carrot Episode 14 PDF using the links below
More from David Envoy
See more books for older children
---
All our posts are checked by Grammarly, the free online grammar checker (British English used):
This site is hosted by Bluehost:

Leave a comment (it won't be public) if you want help getting your own website cost-effectively.