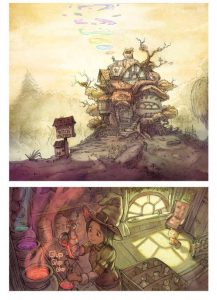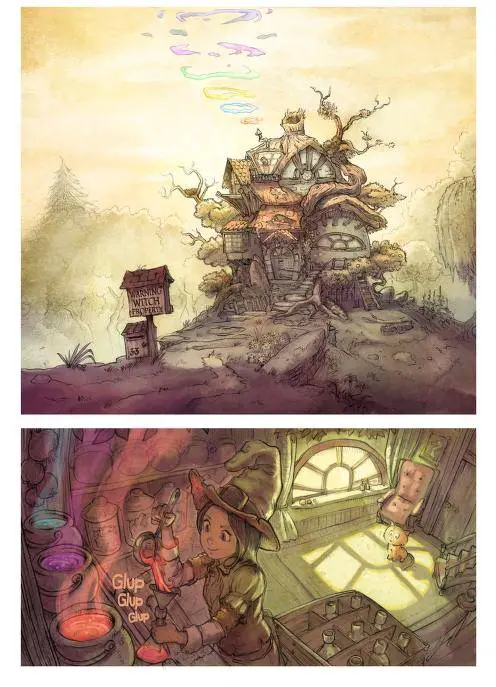 In Episode 2 of Pepper and Carrot, Carrot has his eyes on a rainbow potion. Is it going to be a good idea to sneak around behind Pepper's back or not? Download or read online this adapted version of Pepper and Carrot – The Rainbow potion, a popular webcomic to find out.
Pepper and Carrot are a popular webcomic released in creative commons by David Envoy involving Pepper, a young witch, her ginger cat Carrot, and a community of equally herby witches, dragons, potions, and other fun stuff. David Envoy released the works in creative commons with derivatives, His quote "I want to give people the right to share, use, build and even make money upon the work I've created. All pages, artworks and content were made with Free(Libre) Open-Sources Software on GNU/Linux, and all sources are on this website,". here
About David Envoy's creative commons webcomic philosophy
We so hope David is okay with our children's book version of the original wordless comic, which you can see here David's site, Pepper and Carrot Episode 02 – The Rainbow Potion Original Version.
David Envoy's enchanting characters and amazing drawings make this a really special comic adaption, bound to make readers eager for more.
Open Dyslexic Font
All text is included in this version is in an open source dyslexic font designed to be a fun read to suit early struggling readers. This is more of a fun simple book rather than a structured early reader however, designed for kids to enjoy some slightly more challenging words but have fun with the topic.
Editable Version of Pepper and Carrot Episode 02
If you want to use this edition of the book to create your own in the same way I have, you can find the source (editable) file here:
https://freekidsbooks.org/pepper-carrot-episode-02-editable-version/
I created this in Open Office, which is an office program very similar to MS Office, but it's open source, and totally free, like the books here! It was created by Stansford University, but is contributed to by lots of programmers who donate their time and work to the creative commons, like the authors here.
About Pepper and Carrot
Pepper is a young Witch in a fictitious town called Chaosah, where everyone is sort of spicy, and Carrot is her very feline cute orange cat. Pepper and Carrot webcomics tackle lots of current issues and are fun for all ages.
About David Envoy
David Envoy is a French cartoonist and graphic artist who loves cats and all things open source. After ten years working in graphic art, primarily freelancing and teaching, he started his own project Pepper and Carrot. Releasing Pepper and Carrot as a creative commons work so that it could be shared and built upon in a practically unlimited way, the comic quickly went viral and had now become his full-time work.
More from David Envoy
See more books for older children
---
All our posts are checked by Grammarly, the free online grammar checker (British English used):
This site is hosted by Bluehost:

Leave a comment (it won't be public) if you want help getting your own website cost-effectively.