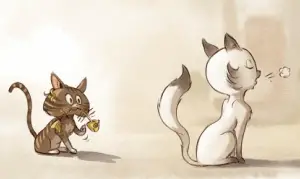 A tom cat is trophy hunting to impress his female friend, a hard to please siamese. This short wordless comic will appeal to children, cat lovers, and well just about anyone.
Trophy hunting is another amazingly illustrated story
Why not try to  make your own story or comic!
Dave Revoys amazing comics are available in creative commons with no restrictions. This means you are totally free to recreate works from these books, and distribute them, the only requirement is that you release them in the same way, and that you provide attribution to David as the original creator and artist.
WRITING EXERCISES
Write your own story using these images or others on the Pepper and Carrot site.
Write a editorial about creative commons publishing model used by David Revoy.
Write an editorial about the Pepper and Carrot comics or about David Revoy.
Submit the editorial, or the story to us for review, if it's good quality we will publish it! Including some information about you and your writing.
FORMATTING EXERCISE
Use these images or others from https://www.pepperandcarrot.com to create a book.This exercise is about learning picture formatting and sizing, file types, document creation and formatting, and can be done with or without words.
This file was created in OpenOffice Draw, and exported to pdf. The pictures were manipulated from the originals by cropping and exporting using Gimp.
If you want to start with an editable version to create you're own, see some native formats of files like this in our editable file category, here: https://freekidsbooks.org/subject/files/editable-files/
See more of these books below