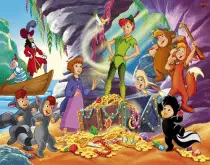 Peter Pan: The Boy Who Would Not Grow Up – The original script for the play of the classic tale of Peter Pan, first performed at Duke of York's Theatre London's Westend, 27th December 1904, and running for 145 performances.
Excerpt: Some disquieting confessions must be made in printing at last the play of Peter Pan; among them this, that I have no recollection of having written it. Of that, however, anon. What I want to do first is to give Peter to the Five without whom he never would have existed.
About the Author: Sir James Matthew Barrie, 1st Baronet, OM was a Scottish novelist and playwright, best remembered today as the creator of Peter Pan. He was born and educated in Scotland but moved to London, where he wrote a number of successful novels and plays.
See more Classic Books below