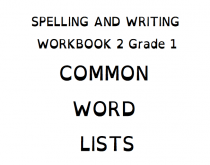 Sight Words Reading Lists, is part of a series on common words and spelling, designed for emerging readers around 4 to 6 years old, and at the approximate level required by the Brittish Grade 1 curriculum. The book focuses primarily on the high frequency sight words for the first 100 high frequency words, and contains lists of sounds from the British Grade 1 curriculum.
The book contains 5 sight word copy and write lists for 20 words each from the first 100 high frequency word lists. There after there are sight words lists, a game, and a competency checklist based on the same first 100 sight words, followed by some digraph sounds lists from the British Grade 1 syllabus. the book is specifically designed for building confidence in sight words and for learning to read and spell. The first pages are designed primarily for printing (copy and write lists), while the remaining lists can also be used as an online resource.
Compiled by Free Kids Books and Danielle Bruckert
See similar posts from free kids books with sight word lists here:
Children usually start learning sight words in kindergarten or reception class – that is the year when they are around 4 years old.At this stage it's so important to make learning fun, that games and activities with sight words are the absolute best way to reinforce them to start off.
As they grow and develop in age and maturity, sight word lists are quite important to re-inforce the fluency.
Although this list is designed for Grade 1, it contains essential words and sounds that must be reinforced for any struggling reader before they will become fluent. From experience with my struggling reader, continual repetition of high frequency and similar sounds was the important key to learning to read.
If you're looking for games and activities to support the lists in this book, check out this blog:
http://childhood101.com/2013/09/sight-words-activity-ideas/
Another favourite of my kids for learning sight words is the loo paper game at ICT Games (what is it with kids and things to do with toilets!?!), I have to admit it is very cute though:
http://www.ictgames.com/literacy.html
See more Early Reader books below
See more books by the Author below
---
Sponsored Links:
Note – if you sign up through these links, it doesn't cost you any extra, but FKB receives a small donation, which helps us with our project to buy more FREE Hardcopies   for kids who need them

All our posts are checked by Grammarly, the FREE online grammar checker (We still receive a donation even if you only sign up for the free account :-):