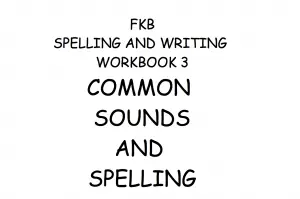 This workbook is designed simply to help reinforce common sounds for those who are struggling to read or have difficulty with English spelling. It comprises primarily of lists of short vowel words simple CVC and with more complex sounds, long vowel words, common tricky words, and more.
The words are presented in tables for learning spelling and have a vowel sorted table and a mixed up table to reinforce the sounds and letter recognition. This file is also available in open dyslexic text and editable text.
See Links below:
https://freekidsbooks.org/common-sounds-dyslexic-font/
Here below is an example of CVC table from the book.
| | | | | |
| --- | --- | --- | --- | --- |
| a | e | i | o | u |
| an | bed | in | box | cup |
| cat | net | tip | hot | bud |
| ran | hen | him | rod | run |
| had | wet | lid | dog | cut |
| tap | ten | bin | fox | rut |
| jam | peg | pig | not | mug |
| man | pen | zip | log | sun |
| bat | let | fix | rot | bus |
| sad | beg | hid | cot | bug |
| map | bet | wig | fog | mud |
| bag | leg | jig | lot | mum |
| mad | red | tin | pop | hut |
| rag | web | lip | dot | bun |
| bad | jet | fit | jot | nun |
| tan | fed | six | bog | nut |