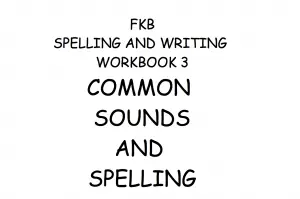 This workbook is designed simply to help reinforce common sounds and high-frequency words. Using lists of common words and sounds is the basis of reading programs for emerging readers. The repetition of common high-frequency words helps immensely for those who are struggling to read or have difficulty with English spelling. It comprises primarily of lists of short vowel words simple CVC and with more complex sounds, long vowel words, common tricky words, and more.
The words are presented in tables for learning to spell and have a vowel sorted table and a mixed up table to reinforce the sounds and letter recognition. This file is also available in open dyslexic text and editable text.
The series has three books, each in pdf, online, and editable versions, see the links below. All books are CC-NC licensed.
This book is also available in an all open dyslexic font.
https://freekidsbooks.org/common-sounds-dyslexic-font/
Here below is an example of CVC table from the book.
| | | | | |
| --- | --- | --- | --- | --- |
| a | e | i | o | u |
| an | bed | in | box | cup |
| cat | net | tip | hot | bud |
| ran | hen | him | rod | run |
| had | wet | lid | dog | cut |
| tap | ten | bin | fox | rut |
| jam | peg | pig | not | mug |
| man | pen | zip | log | sun |
| bat | let | fix | rot | bus |
| sad | beg | hid | cot | bug |
| map | bet | wig | fog | mud |
| bag | leg | jig | lot | mum |
| mad | red | tin | pop | hut |
| rag | web | lip | dot | bun |
| bad | jet | fit | jot | nun |
| tan | fed | six | bog | nut |
See more books for children who are Learning to Read
See more books by the Author below
---
Sponsored Links:
Note – if you sign up through these links, it doesn't cost you any extra, but FKB receives a small donation, which helps us with our project to buy more FREE Hardcopies   for kids who need them

All our posts are checked by Grammarly, the FREE online grammar checker (We still receive a donation even if you only sign up for the free account :-):