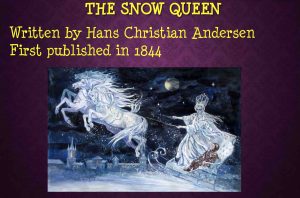 The Snow Queen – Classic Stories – A simple version of the classic tale from Hans Christian Andersen, two friends fight good and evil in an epic battle.
By: Hans Christian Andersen and Kiwi Opa
Text and Images from The Snow Queen – Classic Stories
In the original story,
"the devil", creates a mirror
that turns good to evil.
He delights in using it to
distort everyone and everything;
it makes the loveliest
landscapes look like
"boiled spinach."
The mirror fails to reflect the
good and beautiful aspects of
people and things,
but magnifies
their bad and ugly aspects.
His demons attempt to carry
the mirror into heaven
in order to make fools
of the angels and of God,
But the higher they lift it,
the more it shakes with laughter.
It slips from their grasp
and falls back to earth,
shattering into a billion pieces,
some no larger than a grain of sand.
Two of the grains from the mirror enter Kay.
The Turkish delight in this story
comes from C S Lewis, to simplify things.
<end of sample>
See more Classic Books below