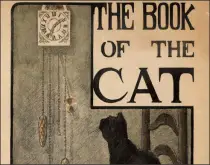 Many years before TS Elliot's popular collection of poems, and many years before Andrew Lloyd Weber popularised it in the broadway musical, was The Book of the Cat. A beautifully illustrated well written collection of short storeys and poems about cats, including The Great Panjandrum, Snowball, and Mr Twinkletoes. Any cat person will identify with the clear descriptions on the feline species, endearing and accurate. This text is a scanned copy of the original, hand written edition, published in 1903.
By: Maybell Humphrey, Elisabeth Bonsall
Excerpt from The Book of the Cat
Down at my feet on the red tiles in front of a roaring great fire sit a great black cat and a soft white angora pussy. They are named Ebony and Snowball and are as different in nature as they are in colour, but are devoted friends for all that. Possibly because of it! for where Snowball is timid, Ebony will bravely lead the way, while if Ebony is cross, Snowball will purr and coax and uddle until he grdually grows peaceful and pleasant again.
From the time he was a tiny kitten Ebony had known no home, and such food as he had was picked up when and wherever he chanced to find it. He had won many and lost few of his many cat battles, but he did not like to fight and never didi it unless obliged to.
Snowall had never struck or received a blow in all of her carefully guarded life. Shew was finely bred Angora that had taken many prizes at the cat shows, while her meals – far from being irregularyl picked up – had always been brought to her on a silver tray as regularly as the sun rose – and considerably oftener!
<end of excerpt>
About the Illustrator: Elizabeth Fearne Bonsall was an american illustrator and painter Born on September 12, 1861. she displayed her talent on her works on The Book of Cats, The Book of Dogs and Pied Piper of Hamelin.
See more Classic Books below