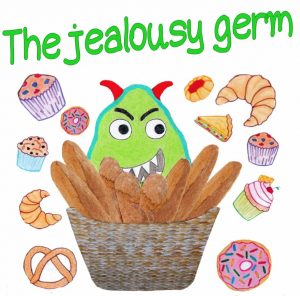 There's a germ in the bakery shop, and he's not a good germ. He's spreading his jealousy disease amongst all the ingredients. Olive oil is jealous of butter, salt of sugar, and sugar of salt, each thinks the other is stealing the limelight, and no one wants to share. How far will the jealousy germ go?
This entertaining children's book shows how negative emotions can affect us and wreak havoc in our lives. The story makes a perfect lesson for elementary children about emotions and feelings. This is ideal for early grades and lends to many great exploratory questions and emotional topics for sharing or journaling.
This text is brought to us by Saita, letting books fly free on the internet, and is released under a creative commons license.
Sample text from The Jealousy Germ by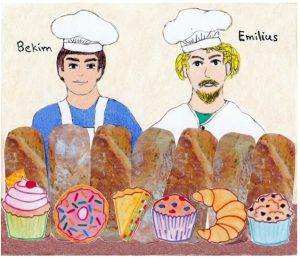 There was once a small and famous bakery store, "Emilius's bakery". Customers had to wait in a long line to buy the baker's goodies.
Emilius, the baker, and his assistant Bekim would very often talk with the materials they used in their recipes: the flour, the sugar, the cheese, the salt, the olive oil, the yeast, the butter, the raisins, the sesame, and a whole lot of others. Together, they were a great team; they got on well with one another and always helped each other.
And all was well until, late one night, the terrible jealousy germ stepped into the bakery.
<End of Page 2>
Click on the links below to read the full picturebook of The Jealousy Germ, totally free, as a pdf download or open online as a flipbook.
Ideas for Exercises:
What should you do if you feel jealous? Write down or discuss three ideas.
When was a time you felt a bad emotion, and what was it? Write or discuss how you felt and what you could have done to change the way you were feeling.
Think of a time when you were feeling badly towards someone else, did you act on the emotion? What happened? What could you have done differently?
Other Books About Emotions
If you are looking for other books for children about handling emotions, check out our Emotions Category
---
All our posts are checked by Grammarly, the free online grammar checker (British English used):
This site is hosted by Bluehost:

Leave a comment (it won't be public) if you want help getting your own website cost-effectively.